WEITERE ACTS FÜR ROCK AM RING 2023
"Christmas came early!
Hier kommt die großartige 2. Bandwelle inkl. Tagesaufteilung.
Exklusive Festivalauftritte von Kings Of Leon, Bring Me The Horizon, Rise Against, Limp Bizkit und Incubus
Außerdem neu mit dabei:
Bounty & Cocoa, Brutus, cleopatrick, Flogging Molly (eröffnen das Festival am Freitag), Gojira, Halestorm, Kontra K, Set It Off, Spiritbox, Sum 41 & The Warning.
+ Unser neues Car & Tent Camping war bereits ausverkauft, aber wir konnten den Bereich vergrößern und Tickets hierfür sind ab sofort wieder verfügbar.
More to come in early 2023!
Und damit wünschen wir Happy Holidays, liebe Ringrocker!"
---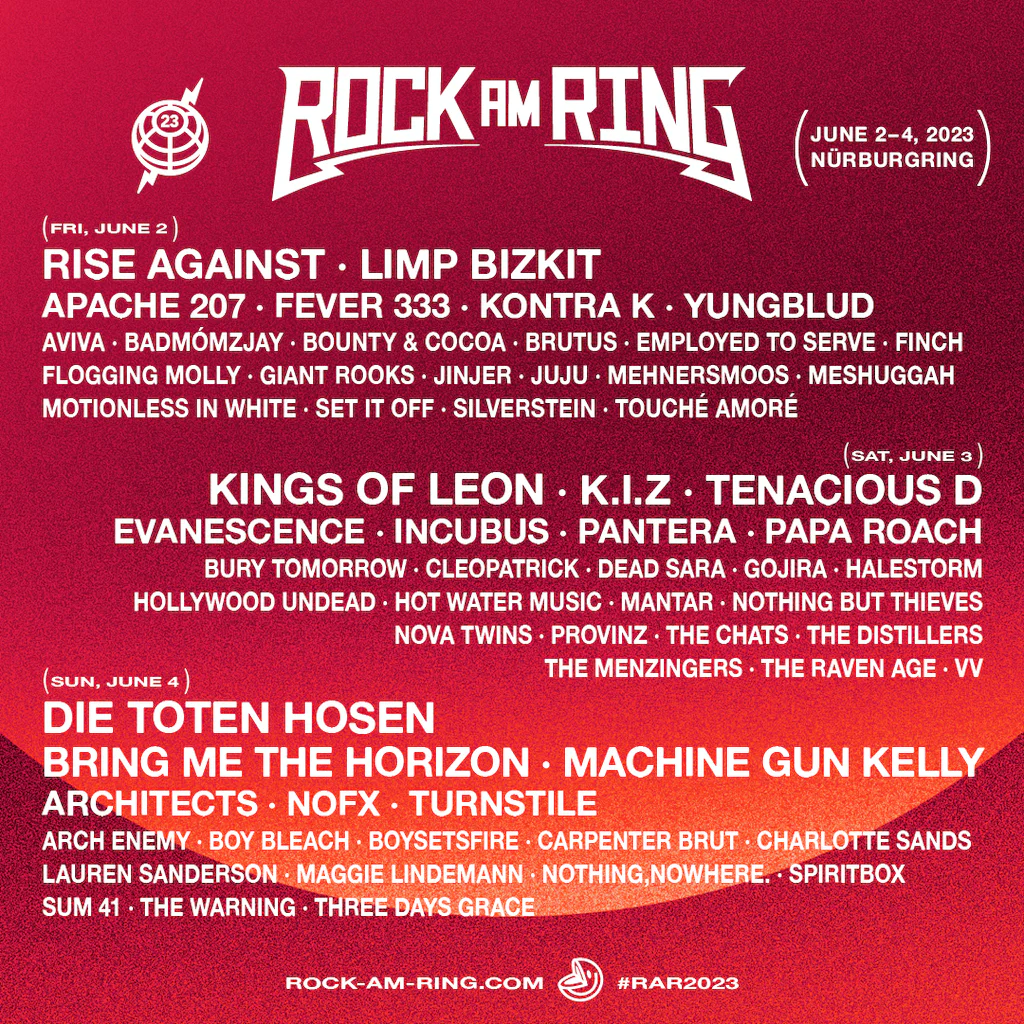 ---
Neu bestätigt:
Bounty & Cocoa, Bring Me The Horizon, Brutus, cleopatrick, Flogging Molly, Gojira, Halestorm, Incubus, Kings Of Leon, Kontra K, Limp Bizkit, Rise Against, Set It Off, Spiritbox, Sum 41 & The Warning
Bisher bestätigt:
Apache 207, Arch Enemy, Architects, Aviva, Badmómzjay, Boy Bleach, Boysetsfire, Bury Tomorrow, Carpenter Brut, Charlotte Sands, Dead Sara, Die Toten Hosen, Employed To Serve, Evanescence, Fever 333, FiNCH, Giant Rooks, Hot Water Music, Jinjer, Juju, K.I.Z, Lauren Sanderson, Machine Gun Kelly, Maggie Lindemann, Mantar, Mehnersmoos, Meshuggah, Motionless in White, NOFX, Nothing But Thieves, Nothing Nowhere, Nova Twins, Pantera, Papa Roach, Provinz, Silverstein, Tenacious D, The Chats, The Distillers, The Menzingers, The Raven Age, Three Days Grace, Touché Amoré, Turnstile, VV, Yungblud